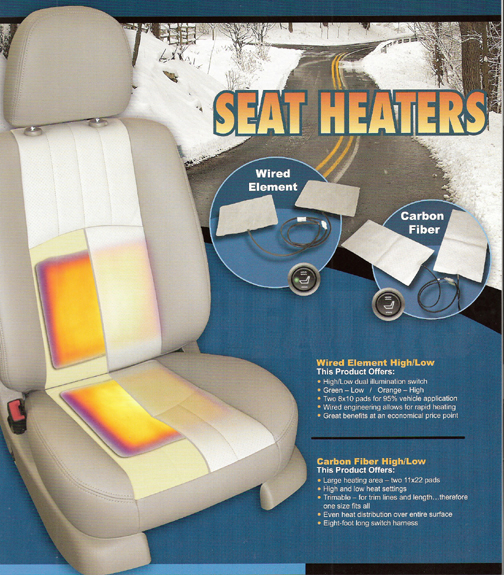 Universal Wired Element Seat Heaters:
Fits 95% vehicle applications!
Size: 8"x10.25".
High/Low Lighted Switch.
Thermostat 40C - low.
Thermostat 50C - High.
Price is only $84 each.
Carbon Fiber Seat Heaters:
Large Heating Area two 11"x22" pads.
High and Low Heat Settings.
Trimable - for trim lines and length...therefore one size fits all.
Even heat distribution over entire surface.
Eight foot long switch harness.
Price is only $97 each.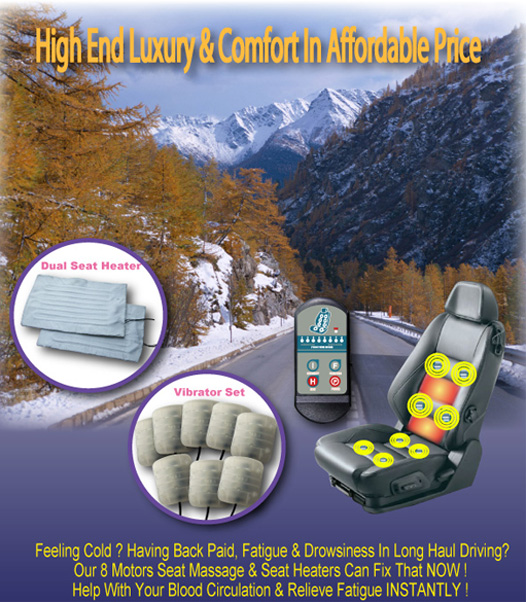 8 Motor Seat Massager/ 2 Seat Heat Pads System:
Features
Ergonomic Design for long distance driving
Reduce Muscle Tension and Restricted Blood Circulation 
Luxury, Innovated & Comfortable massage system
Relieve Stress and Increase Alertness 
Proven Technology: Reliable, durable and easy installation
Auto Shut-Off-Mode in 15 minutes
Compatible with all seats in car, truck and RV
Whisper-Quiet Operation; User friendly control interface 
3 years standard factory warranty
Enjoy the massage feeling just sitting on the regular seat
Specifications

8 individual massage motors 
2 heating pads available for both seat cushion and backrest area 
Programmable vibration intensity
4 massage zones with 8 different massaging function mode 
Low voltage (12V) with 15 minutes Auto Turn-off timer. 
Heat temperature 40~60 degree C 
Ergonomic design for any OEM and Aftermarket vehicle application 
Hand control with LED light indicator
Package Included:

8 vibration motors 
2 seat heating pad 
Wired hand control 
System harness 
Power cables
Price is only $177 per seat.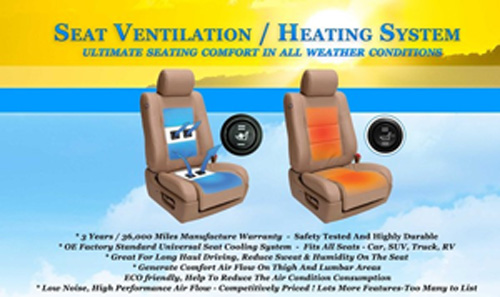 Seat Cooling Fan System (High/Low Fan Speed)
* OE factory standard universal seat cooling system
* Fits all seats - Car, SUV, Truck, RV, Van
* 3 Years / 36,000 miles manufacture warranty
* Great for long haul driving, reduce sweat & humidity on the seat
* Low noise high performance ball bearing fan
* Low power but high performance air flow
* Generate comfort air flow on thigh and lumbar areas
* ECO friendly, Help to reduce the Air Condition consumption
Seat Cooling System Package Includes:

4 x Cooling Fans,
1 x Control Harness/Wires,
High/Low Speed Switch,
2 x Perforated Spacer Foam.
Price is only $177 per seat.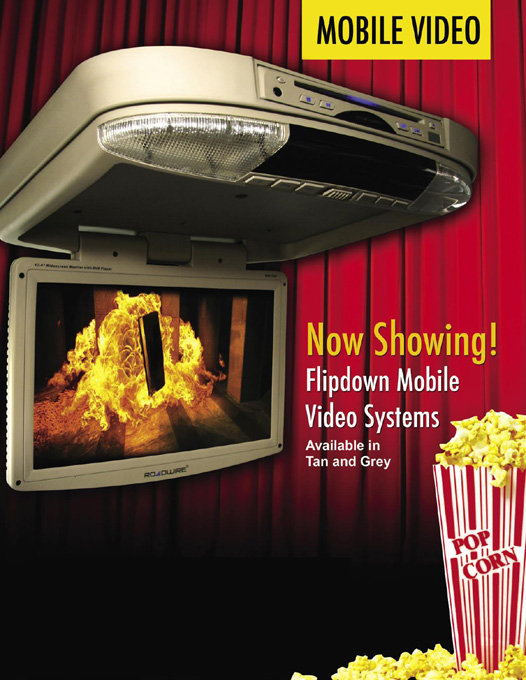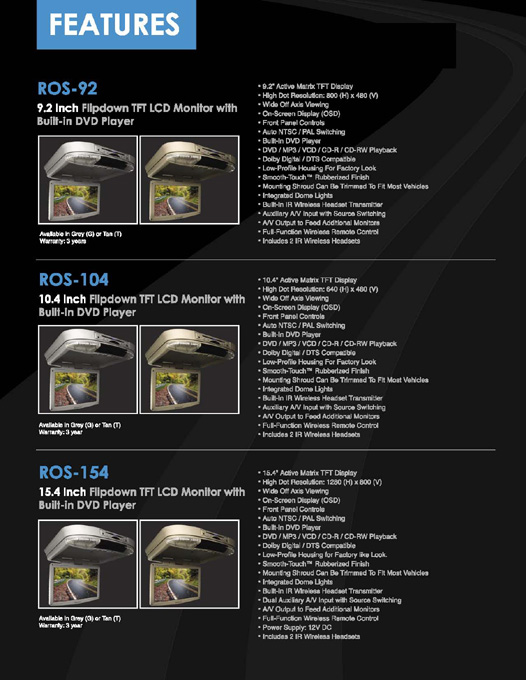 Price for 9.2" is only $667 each.
Price for 10.4" is only $697 each.
Price for 15.4" is only $867 each.